Magique Enterprises

Presents

ERGONOMIC CROCHET HOOKS
******

PLEASE NOTE
that the inventors of
Eleggant Hooks have retired as of
December 31, 2013.
You may now find Eleggant Hooks
under the auspices of the new owners
Knitdom.com


Please allow Larry a little time to get his website
in order so he can serve you better.
Contact Larry at
http://knitdom.com/contact/
We wish Larry all the best, and sincerely
thank all our loyal customers for
their kind support over the last 8 years!



CROCHET WITH EASE
with the most comfortable hook you will ever hold!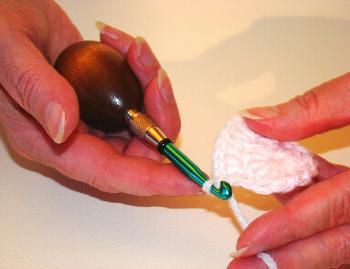 Do you LOVE to crochet?
Do you suffer from muscle or joint

PAIN

which hampers or stops you from crocheting? Do you suffer from any form of Arthritis, Parkinson's Disease, Tendonitis,
Neuropathy, Fibromyalgia or Carpal Tunnel Syndrome?
Does crocheting for long periods of time make you cry?
Do your hands get tired and your fingers get cramped?
Do you want to reduce the risk of getting any of the above?

Do you want a crochet kit that is comfortable,
convenient, versatile, and compact for traveling too?

Just drop this baby

in your palm

and feel the warmth!
No more hard gripping required.
~~~~~~~~~~~~~~~~~~~~~~~~~~~~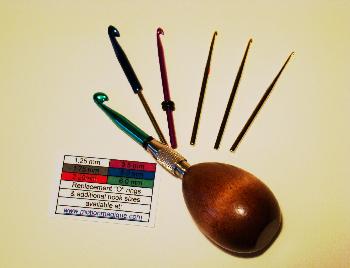 ~ Living Proof that it can help a lot of people enjoy their hobby ~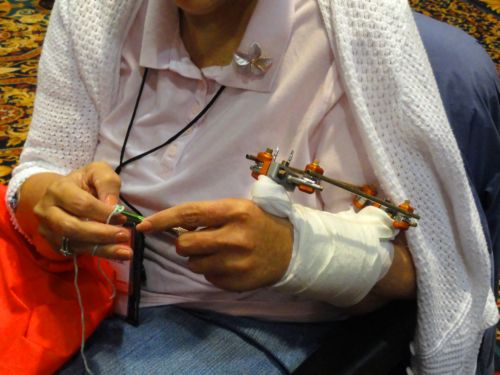 This lovely lady allowed me to photograph her using our hook at the Fall Knit & Crochet Show
Joseph S. Koury Convention Ctr, Greensboro, NC Sept 24, 2011.
*****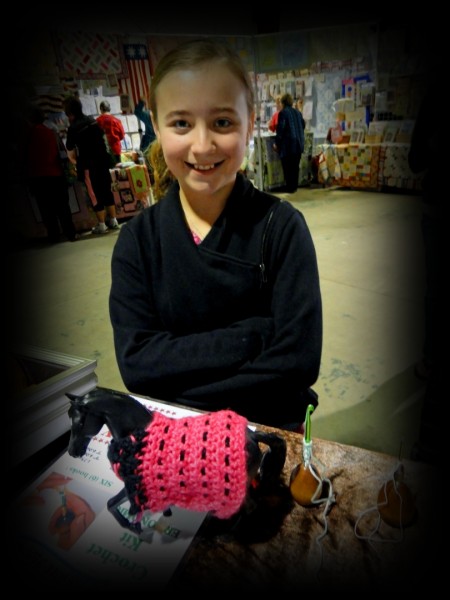 Lovely Leanna and her friends stopped by to show us the great work they are doing with their new Eleggant Hooks.
Taken at the Phoenix Quilt, Craft & Sewing Show Feb 1/13
*****
Don't take our word for it.
CLICK HERE to see genuine
Verbatim FEEDBACK


received from SATISFIED customers
Crochet easier and with less PAIN !

NO MORE GRIPPING
skinny shafts between two fingers!
That
GRIPPING
is what
CAUSES
all your
PAIN
!!
This innovative lightweight hook has been designed to fit in your hand comfortably,
even for those who suffer from Fibromyalgia, Arthritis, Parkinson's, Neuropathy,
Tendonitis or Carpal Tunnel and have difficulty grasping normal hooks.
Our method reduces stress, strain and tension on the hands, fingers, tendons
and muscles which may cause or aggravate such pain.
Just drop this wonderful hook into your palm.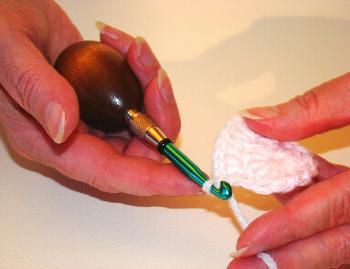 The NATURAL curve of your palm will do 90% of the work
to hold the hook and it will not fall from your hand.
It is so light and comfortable that you will forget you are holding it,
and you will happily crochet for much longer periods of time.
The NATURAL wood of the hook also absorbs, and returns,
the NATURAL warmth of your hand for a wonderfully therapeutic feeling.
This hook is also great for teaching older CHILDREN to crochet too !!

Convenience, Versatility and SAVINGS
The convenient, lightweight, ergonomic handle comes with
INTERCHANGEABLE
crochet hooks! Yes, ONE set with several hooks that will allow you
to do most projects from doilies to afghans to the new wire creations.
There is no need to purchase several expensive ergonomic handles
that are married to a single hook. This saves you money.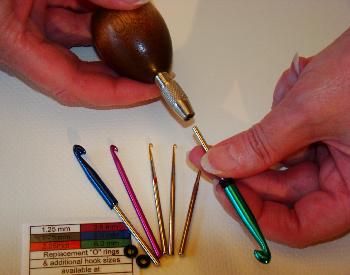 Another of the superior benefits of this handle is that ANY of YOUR favorite cotton

STEEL

hooks can be cut off just above, or a little below, the flat part and they will work perfectly

with the mechanism, turning this wonderful new handle into


YOUR NEW FAVORITE!

The

mechanism

works like a multi-headed screwdriver
and

easily tightens and loosens

to changes sizes.


CLICK HERE for a TUTORIAL and Q & A


if you have any questions